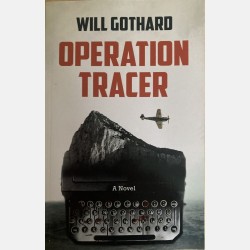 Operation Tracer (Will Gothard)
In Operation Tracer, Commander 'Windy' Gale must lead a top-secret World War II mission to save the Rock of Gibraltar. Lose the Rock, lose the war.
It's 1942 and Gibraltar, the 'gateway to the Mediterranean', is in Hitler's sights. When Axis troops invade, British intelligence activates Operation Tracer, the only hope for Allied forces trapped in North Africa. But things don't go to plan for the team of undercover operatives.The mission begins to unravel when Petty Officer Maria Bona joins the unit. Six disparate individuals have their courage, secrets and loyalties stretched to breaking point. Lies are exposed and no one is to be trusted in a last-ditch attempt to change the course of the war.Will Gothard's simmering plot explores themes of desire, taboo and racism in the British Army. Inspired by the actual events of an audacious British Naval Intelligence mission, the brainchild of real-life spy and James Bond author Ian Fleming, this World War II espionage adventure keeps you guessing until the final chapter.An action-packed thriller, full of twists and bursting with intrigue, Operation Tracer packs a punch from start to finish. Who can be trusted? Will they get the job done? Only Commander Gale and his team can save the day – but can they save each other?
Product Details
Publisher: Bow Bell Books
Year of Publication: 2023
Language: English
Paperback 360 pages
Dimensions: 21.3cm (l), 13.8cm (w), 2.3cm (d)