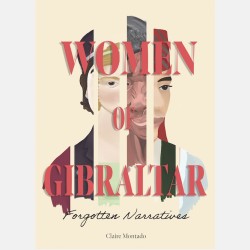 Women of Gibraltar: Forgotten Narratives (Claire Montado)
Claire Montado is the Chief Executive of The Gibraltar Heritage Trust, she studied Archaeology at the University of Reading and did her Masters in Museum Studies at the Universtity of Leicester.
This book features the stories of 30 women and institutions that have shaped Gibraltar, worked in Gibraltar, or passed through Gibraltar on their journeys through life.
From Neanderthal times, into the 16th and up to the 21st Century, through these profiles we shed a light on the Gibraltar of their time, the values of the society they inhabited and the work of those who were determined to make positive change.
Product Details
Publisher: Ministry of Equality, HM Government of Gibraltar
Year of publication: 2023
Language: English
Paperback 176 pages
Dimensions: 24cm (l), 17cm (w), 1.3cm (d)