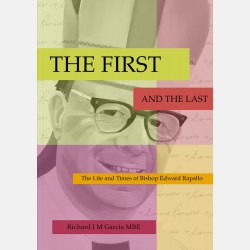 The First and The Last: The Life and Times of Bishop Edward Rappallo (Richard J.M. Garcia MBE)
AVAILABLE TO PRE-ORDER (currently not available for shipping due to unknown weight of book).

If Edward Rapallo had not become a priest, he would probably have joined the family business and manufactured macaroni and boiled sweets. Instead, he became the first Gibraltarian to be the titular Bishop of Gibraltar. On the 50th anniversary of his Episcopal Consecration, it is an appropriate moment to reflect on his life and all his remarkable achievements.This is, however, much more than a simple biography of a holy priest. It is also a social history of his times, which saw the creation by Father Rapallo of the Young Christian Workers and a social awakening in Gibraltar; the departure of the Christian Brothers from Gibraltar and the start of the comprehensive system of education; and the upheaval caused by the closure by the Spanish Government in 1969 of the land frontier with Gibraltar. It furthermore records the history of the Rapallo family in Gibraltar, which stretches back to 1704.This is additionally an illustrated history of the Catholic Church in Gibraltar particularly during the time of Bishop Rapallo's episcopate, with much hitherto unpublished information on the Church during his whole lifetime. It includes the part that Father Rapallo played in the time of his predecessors, Bishop Fitzgerald and Bishop Healy.
This book is ultimately a tribute to a man who dedicated his whole life to God, and to his fellow Gibraltarians, and who cared deeply about Gibraltar.
Due to be launched on 6th October.

A Book Signing event will take place on Friday 13th October. Read more here.