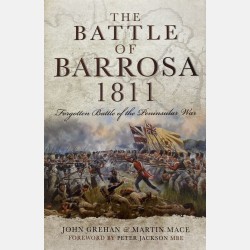 The Battle of Barrosa 1811: Forgotten Battle of the Peninsular War (John Grehan & Martin Mace)
By the winter of 1810-11, the armies of Napoleon had overrun most of Spain and Joseph Bonaparte sat on the throne in Madrid. Yet the Spanish Government had found refuge in the fortress- port of Cadiz and the Spaniards refused to admit that they had been conquered. With the British army under Sir Thomas Graham helping to defend Cadiz, the Spanish cause seemed certain to prevail.
The Battle of Barrosa is the first book to examine this crucial encounter in detail and to reveal it's true historical importance.
Product Details
Publisher: Pen & Sword
Year of publication: 2012
Language: English
Hardback 212 pages
Dimensions: 24cm (l), 16.2cm (w), 2.3cm (w)