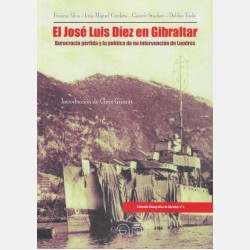 El Jose Luis Diez en Gibraltar (Francis Silva, Luis Miguel Cerdera, Gareth Stockey, Debbie Eade)
Burocracia perfida y la politica de no intervencion de Londres. This is the Spanish translated version of the book: Red Ship and Red Tape which tells the story of a ship that came to Gibraltar for refuge in 1938 during the Spanish Civil War. The Republican Navy vessel and its crew took shelter in their damaged ship just off Catalan Bay on the east side of the Rock. They were offered assistance but the whole incident was a real dilema for the British who did not want to intervene.
Co-written by Francis Silva, Luis Migual Cerdera, Gareth Stockey and Debbie Eade with an introduction by Chris Grocott.
Product Details:
Publisher: Foro por la memoria del Campo Gibraltar
Year of Publication: 2021
Language: Spanish
Paperback: 180 pages
Dimensions: 24cm (l), 17cm (w) 1cm (d)​