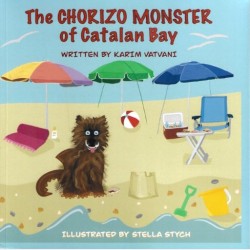 The Chorizo Monster of Catalan Bay (Karim Vatvani)
This children's book tells the story of Catalan Bay and it's beautiful beach in the heart of Gibraltar. During the summer months its golden sand and crystal blue sea is enjoyed by all. However, all is not well ...in the depths of the sea lurks a ferocious, hairy monster that creeps onto the shore and gobbles up everyone's food. Its favourite snack? A Gibraltarian classic, a chorizo sandwich!
While the beach-goers try to address their hairy, beastly situation, a bigger problem goes unnoticed...One that could be catastrophic to our environment and the World we live in...
A local tale which addresses the issue of littering and how the pollution it causes affects everything from Climate Change to the quality of the air we breathe.
Product Details
Publisher: Independently published
Year of publication: 2022
Language: English
Paperback 38 pages
Dimensions: 21.6cm (l), 21.5cm (w), 0.5cm (d)