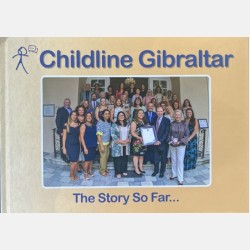 Childline Gibraltar: The Story So Far
This book features photographs and articles from fundraising events and initiatives starting from where it all began in 2006 up to 2021. It acknowledges all the extraordinary people and organizations that have contributed to the Childine success story so far.
Proceeds from the sale of this book go to Childline Gibraltar.
Product details
Publisher: Gibraltar Chronicle Printing Ltd
Year of pulication: 2022
Language: English
Hardback 79 pages
Dimensions: 30cm (l), 21.5cm (h), 1.2cm (d)