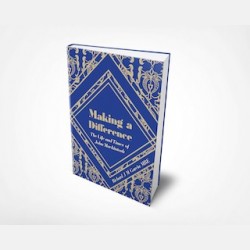 Making a Difference: The Life & Times of John Mackintosh (Richard Garcia)
By Richard Garcia.

A biography of the life of John Mackintosh, Gibraltarian philanthropist and benefactor from the late 19th century.

We will be holding a book signing at the Main Guard on 9th December between 10:30am and 12:30pm, therefore if you would like to enclose a dedication for Richard to sign, please leave it in the 'Notes/Comments' section at checkout. We will be in touch with further information.
PLEASE NOTE THAT LAST POSTING DATES FOR CHRISTMAS IS 15th DECEMBER 2022
Product Details:
Publisher: Trustees of the Estate of John Mackintosh
Year of Publication: 2022
Language: English
Paperback 320 pages
Dimensions: 23.7cm (l), 17cm (w), 2cm (d)