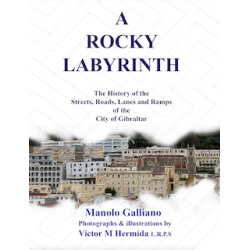 A Rocky Labyrinth (Manolo Galliano)
By Manolo Galliano. Photographs and Illustrations by Victor Hermida L.R.P.S.

The History of the Streets, Lanes, Roads and Ramps of the City of Gibraltar (re-print).

If you would like your copy signed by the authors, please leave your dedication or a note in the comments section at checkout.

This book attempts to provide a window into the fascinating history, origin and location of the many streets and roads, ramps and alleys that crisscoss and undulate through the City of Gibraltar. Within this labyrinth, countless generations of Gibraltarians have, over centuries, made their homes and brought up their families, subsequently creating a living, breathing environment to be proud of. It is, therefore, essential that the deatils of these thoroughfares, together with their colloquial names, be made available for the delectation and information of both reident .
Product Details:
Publisher: Gibraltar Heritage Trust
Year of Publication: 2022
Language: English
Type: Hardback 178 pages
Dimensions: 25.6cm (l), 20.5cm (w), 1.8cm (d)

Members of the Trust can purchase the book at a discounted price of £25 with a special coupon code at checkout.