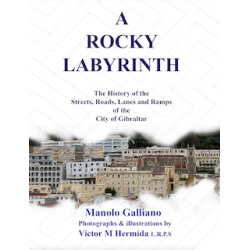 A Rocky Labyrinth (Manolo Galliano)
By Manolo Galliano. Photographs and illustrations by Victor Hermida L.R.P.S.

'A History of the Streets, Lanes, Roads and Ramps of the City of Gibraltar'.

We will be holding a book signing on the 3rd of December, therefore if you would like to enclose a dedication for Manolo and Victor to sign, please leave it in the 'Notes/Comments' section at checkout.

Product Details:
Publisher: Gibraltar Heritage Trust
Year of Publication: 2022
Language: English
Type: Hardback 178 pages
Dimensions: 22.5cm (l), 20.5cm (w), 2cm (d)
Members of the Trust can purchase the book at a discounted price of £25 with a special coupon code at checkout.