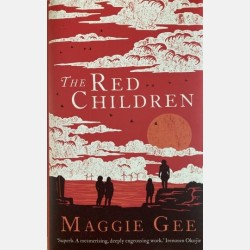 The Red Children (Maggie Gee)
It's the 2030's in Ramsgate and four people who don't look quite human are found sitting, naked, in the early spring sunlight on the quay of the quiet south coast resort, The locals are puzzled, the newcomers are larger and heavier than they are and say they are fleeing the heat. Soon more arrive. Their tall red haired leader, The Professor, talks to the universe.
Set in a world in crisis, this original, gripping fable about migration and global warming restores belief in the power of Human kindness.
Product Details
Publisher: Telegram
Year of publication: 2022
Language: English
Hardback 291 pages
Dimensions: (l) 22.2cm, (w) 14cm, (d) 2.5cm