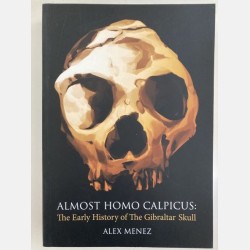 Almost Homo Calpicus: The Early History of The Gibraltar Skull (Alex Menez)
The Gibraltar Skull is Gibraltar's most famous fossil. It is the first adult Neanderthal skull ever found and was presented to the Gibraltar Scietific Society in 1848. Almost nothing is known about it's early history, until now.
What did Charles Darwin, one of the first scientists to see the skull, think of it? Why do we talk today of Neanderthal Man and not Gibraltar Man? These are some of the questions answered in this book.
Product details
Publisher: The Gibraltar National Museum
Year of Publication: 2018
Language: English
Paperback 455 pages
Dimensions: 21cm (l), 14.8cm (w), 3cm (d)