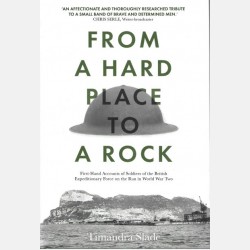 From A Hard Place To A Rock (Timandra Slade)
By Timandra Slade.

First hand accounts of soldiers of the British Expeditionary Force on the Run in World War Two.

'This is a vivid and humbling reminder of the courage that brought our country through the war and to the defeat of Germany and Japan.' Lieutenant-General Jonathan Riley CB DSO, Late Colonel, The Royal Welch Fusiliers.
Product Details:
Publisher: Troubador Publishing Ltd
Year of Publication: 2022
Language: English
Hardback: 222 pages
Dimensions: 24cm (l) x 16cm (w) x 2.2cm (d)