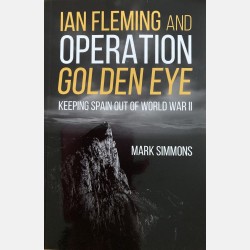 Ian Fleming and Operation Golden Eye, Keeping Spain Out of World War II (Mark Simmons)
By Mark Simmons.
Spies, Scoundrels, and Envoys keeping Spain out of World War II.
The nearest Ian Fleming ever got to being a real secret agent was when he visited the Iberian Peninsula and Tangiers several times during World War II. This was when Fleming devised the sabotage and disruption scheme Operation Golden Eye with Alan Hillgarth, the naval attache in Madrid. Golden Eye was to be implemented by SIS and SOE teams in the event of the Germans moving into Spain whether invited or as invaders. The 007 novels penned by Fleming had their roots firmly anchored in his experiences and the array of colourful characters he met during World War II.
Little wonder he called his home on Jamaica - where he wrote the James Bond novels - Goldeneye
Product Details:
Publisher: Casemates Publishers
Year of publication: 2018 (reprinted in paperback 2022)
Language: English
Paperback: 192 pages
Dimensions: 15.9cm (w) x 23.6cm (h) x 1.8cm (d)