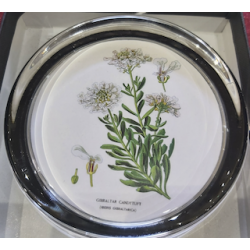 Candytuft Paperweight
Large Round Glass Candytuft Paperweight.
'iberis gibraltarica'
The Candytuft is Gibraltar's National Flower. Although originally from North Africa, Gibraltar is now the only place in Europe where it can be found growing in the wild.
The candytuft plant likes to grow in cracks in the rock and on stony ground. It can be found on the Northern and Eastern cliffs of the rock.
Did you know? The Candytuft plant is used in medicine for heart and breathing problems.
Dimensions: 8.7cm (w) x 8.7cm (l) x 2cm (d)