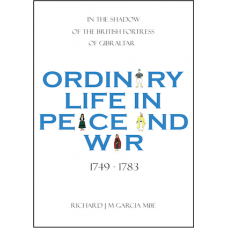 Ordinary Life in Peace and War, 1749-1783 (Richard J.M. Garcia)
Volume 2 of the trilogy 'In the Shadow of the British Fortress of Gibraltar', 'Ordinary Life in Peace and War, 1749-1783' traces the growth and development of Gibraltar from the time when General Humphrey Bland arrived as Governor in 1749 and established order and fairness, which were greatly welcomed by the civilian community. His successors continued in his footsteps and Gibraltar prospered. Relations with Spain at a local level improved enormously, but relations with Morocco were more challenging. Then, just when everything was going well for the people of Gibraltar, the Great Siege commenced. The Great Siege is seen from the perspective of the civilian community rather than from the military viewpoint: it conveys a totally different perspective.
As in Volume 1, this book is crammed with new information, most of it taken from primary sources, that has hitherto remained unpublished. It continues to tell a different story of what Gibraltar was like in the 18th century.
*If you wish to have this book dedicated, please leave instructions in the notes section at checkout*.
Volume 3 is scheduled for publication in early September 2021.
Product Details:
Publisher: RJMG Books
Year of Publication: 2021
Language: English
Paperback: 250 pages
Dimensions:17cm (w) x 24cm (l) x 1.9cm (d)