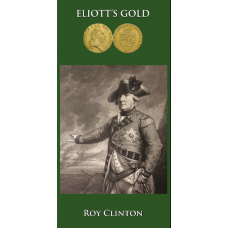 Eliott's Gold
The book focusses on the littleknown history when General Eliot, whilst serving as Governor of gibraltar and under siege, together with the naval commander Brigadier Curtis pursued a claim for a prize and bounty for the Gibraltar Garrison and Naval department during the Great Siege of Gibraltar 1779-1783.
Although the Great Siege is well documented by military historians and eyewitnesses such as Captain Drinkwater, Roy felt the narrative just ended once the cannons fall silent and decided to pick up the story of what happened afterwards and how the Garrison was eventually rewarded by Parliament with prize money.
This is a hardback copy, perfect for gifting.