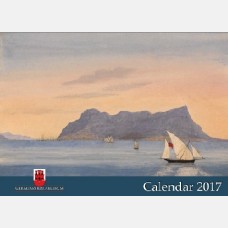 Gibraltar Heritage Trust Calendar 2017
The 21st edition of the popular calendar sees a return to the classic theme of historic views of Gibraltar.
This year's calendar focuses on a body of work by British watercolourist George Lothian Hall who was stationed in Gibraltar between 1843 and 1844. The pictures are part of the Paul Mellon collection of the Yale Centre for British Art in Connecticut, America. We were captured by the vibrancy and quality of the images, dipicting well known location but from distinct angles to the norm. A view of the Old Naval Hospital complete with convalescing patients in their standard issue pyjamas, a landbased view of Rosia Bay, a panorama acrosss the Vineyards to the North Pavillion, amongst others. There are also a number of the more general martime views of the Rock that are so atmospheric of the period and show the Rock of Gibraltar from its various seaward and landbased approaches.