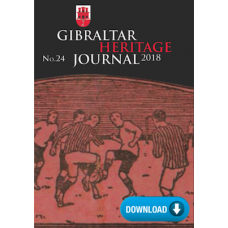 (Downloadable) Gibraltar Heritage Journal Volume 24
DIGITAL DOWNLOAD
This product is downloaded for personal, non-commercial, entertainment use and not for any redistribution in any form or format. Please respect the laws of Copyright.
This edition of the Journal contains articles on:
'Gibraltar Crossroad for Emigration to the West: From Gibraltar to the Americas 1870 to 1930' by Anthony W. Pitaluga.
' Lo mataron de un valaso: Military Deaths in the Burial Registers of the Cathedral of Saint Mary the Crowned, 1704-05' by Ryan Asquez
'Death of an Admiral, Birth of a Naval Legend: The Death of Jacob Heemskerk at the Battle of the Bay of Gibraltar 1607' by David Sanchez
- 'Gibraltar - Siege of 1704-05. Translation and notes' by Manolo Galliano
'The 16th Century Coat of Arms in the Cathedral of Saint Mary the Crowned' By Manolo Galliano
'My Life as a Musician' - By Tito Valerga
'Jamilla's Story' - By Gina Marks
'The Spanish Blockade' By Joseph Nuñez
'Lieutenant General Thomas Fowke' By Tito Benady
'Radio Gibraltar 60 years at The Centre of Everything' By George Valarino
'Not Quite James Bond- Shining a Light on the Spy Services in Gibraltar' by Jonathan Jefferies
' Spanish Inhabitants who Remained in Gibraltar after 1704. Part III' By Richard Garcia
'Book Review - Gibraltar: The Greatest Siege in British History' by Roy & Leslie Adkin
Notes & Queries Section: 'Emerson Place', ' The Centenary of the Sinking of HMS Britannia' and ' The History of Gibraltar's Streets'
The Journal also includes an updated Gibraltar Bookshelf and a Cumulative index.
PRODUCT WILL BE EMAILED IN PDF FORMAT TO EMAIL PROVIDED AT CHECKOUT. PLEASE ALLOW 24hrs FOR FULFILMENT OF ORDER