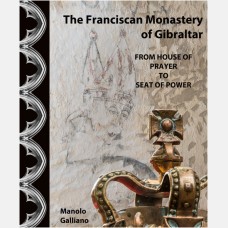 The Franciscan Monastery of Gibraltar
This iconic building (The Convent) with its pseudo Jacobean red brick and stone facade, was orginally the Franciscan Monastery of Gibraltar, set up in the latter part of the 15th century. It has survived sacking by Barbary Corsairs in 1540 and the continous shelling, which destroyed most of the City during the Great Siege of 1779-83.
This book details the history of the building together with the life and times of its incumbents during the Spanish and British periods. It relates the activities of the Franciscan Friars, who devoted their lives to daily prayer and works of charity and who eked out a living from the produce harvested in their orchard and cultivated land, now the magnificent Convent Gardens. It also records the comings and goings of British Governors, Heads of State and innumerable visitors, together with the various alterations and improvements made to the fabric of the building during the last 300 years, together with details of the recent re-discovery of 16th century Franciscan frescoes.
The Convent continues to be an intrinsic part of the Rock's civic, legal, military and political life, where the partnership between the United Kingdom and Gibraltar is developed and kept up to date for the benefit of the people of Gibraltar.