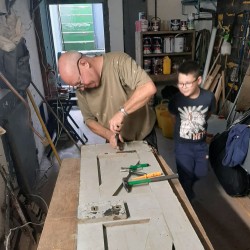 Donate to Pete's Projects
Pete is one of the Trustees at the Heritage Trust, and an ex-artillery man, and along with various volunteers, works tirelessly to restore and renovate heritage sites around Gibraltar.
Here is a statement from Pete:
"Whilst there is a rich history of defence on the Rock of Gibraltar there is no one organisation that takes responsibility for the upkeep of the various guns and other military positions. It is my mission to do my best to restore, renovate and refurbish as many of these sites as possible to ensure our heritage and history is not lost to neglect.
This has been a completely voluntary project which has recieved minimum adhoc funding to date. Any donations will go towards the purchasing of the necessary materials and equipment to continue this project."
The main focus at the moment is 'Lord Airey's Battery', a 9.2" coastal defence gun at the top of the Rock of Gibraltar.
Thank you for your support in the continuation of the works to restore, protect and preserve this element of our heritage.
We have already raised £1210! Help us to reach our target of 10,000 and keep an eye out for updates on this page!
Listen to Pete talk about the project on our podcast series, part 1 and part 2.
Follow his progress on his Facebook page.