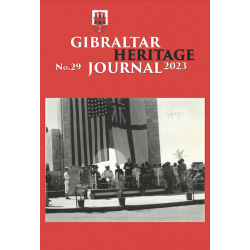 Gibraltar Heritage Journal Volume 29
Foreword by Ian Balestrino
Preface by Richard JM Garcia

Articles in this edition include:
'My Mother's Gibraltar Childhood' by Elizabeth Winthrop Alsop
'The Devil's Spyglass and Breakneck Stairs: An Unsolved Mystery' by Roy Clinton
'Port of Gibraltar: Mersa Asagra' by Tito Benady
'St Michael's Cave as described by early writers, Eighth Century BC - Eighteenth Century' by Manolo Galliano
'Before the Siege' by Dr Sam Benady
'World War One: Commemoration and Remembrance' by Anthony W Pitaluga
'Spanish Guns Over the Rock?' by Peter Ferrary
'El Santo Cristo de Burgos: Wills and Local Religion in late Seventeenth Century Gibraltar' by Dr Ryan Asquez
​'Birth Records in Gibraltar 1704 - 12' by Richard JM Garcia
Notes & Queries
'Chimney Swallows' (revised) by Roy & Lesley Adkins
'Coronation Medals Distributed in Gibraltar' by Richard JM Garcia
Contents include Gibraltar Bookshelf 2021 - 2022

*Cover photograph: The Ceremony for the dedication and unveiling of the American War Memorial in the presence of the Governor of Gibraltar and British and American dignitaries.
Courtesy of the American Battle Monumments Commission.
*Members receive a special discount upon showing proof of a valid membership card. Get in touch at exec@gibraltarheritagetrust.org.gi.

Product Details:
Publisher: The Gibraltar Heritage Trust
Year of Publication: 2023
Language: English
Paperback: 129 pages
Dimensions: 21.5cm (l) x 15cm (w) x 1cm (d)