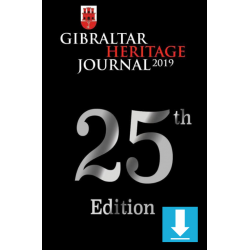 (Downloadable) Gibraltar Heritage Journal 25
DIGITAL DOWNLOAD

This product is downloaded for personal, non-commercial, entertainment use and not for any redustribution in any form or format. Please respect the laws of Copyright.

Celebrating 25 years of The Gibraltar Heritage Journal with an extra large edition of over 15 articles and Notes & Queries.
Articles include:
'25 years of the Journal of the Gibraltar Heritage Trust,' by Richard Garcia
'The Gibraltar Gas Company: A case Study in Colonial Capitalism', by Roy Clinton
'Francisco Porro, the Gibraltarian Bishop 'Persecuted' by Napoleon, by Marti Crespo
'Shakelton Air Crash at R.A.F. North Front 14th September 1957', by Manolo Galliano
'Gibraltar Gills – Merchants and Medics', by Robin Gill
'A Contemporary Account of the Capture of Gibraltar', by Sam Benady
'World War One: The Impact on Gibraltar', by Anthony W Pitaluga
'Lord Tyrawley; a singularly Licentious Man', by Tito Benady
'The British Salamanders', by Roy and Lesley Adkins
'The Bombing and Sinking of the 'H.M.T. Stella Sirius', by Ian Balestrino
'Bishop Devlin's Account of the Early History of St. Teresa's Church', by Richard Garcia
'Alcaldes, Alcaides, Corregidores & Governors of Gibraltar (1310-1704)', by Manolo Galliano
Notes and Queries:
'Monkey Business', by Sam Benady
'Drum', by Richard Labrador
'H.M.S. Britannia Revisitied', by Ian Balestrino
​Book Review: 'Of Monks and Nuns', Manolo Galliano, by Sam Benady
Contents include Gibraltar Booksheld 2017, 2018 and 2019.

PRODUCT WILL BE EMAILED IN PDF FORMAT TO EMAIL PPROVIDED AT CHECKOUT. PLEASE ALLOW 24hrs FOR FULFILMENT OF ORDER.