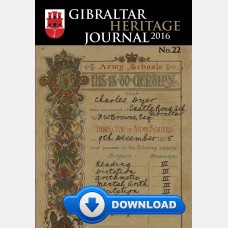 (Downloadable) Gibraltar Heritage Journal Vol 22
DIGITAL DOWNLOAD
This product is downloaded for personal, non-commercial, entertainment use and not for any redistribution in any form or format. Please respect the laws of Copyright.
This edition of the Journal contains articles on:
'What's in a name?', by Sam Benady;
'The Dyer Family of Gibraltar', by Manolo Galliano;
'Governor Bland and the first Constitution for Gibraltar' by Tito Benady;
'The Mayorality of Gibraltar and the History of the City Hall' by Anthony Lombard;
'The original Spanish Inhabitants of Gibraltar 1704-1712' by Richard Garcia;
'Bronze Howitzers at the Alameda Gardens' by Ian Balestrino;
'The Gibraltar War Memorial at the National Memorial Arboretum, UK' by Joe Brugada;
Notes and Queries section: 'Rock Scorpions and other creatures', 'Photographs with frames of postage stamps', 'A symbol of Christian Reconquest in the Cathedral of St. Mary the Crowned revised' and 'The last Royal Navy ship sunk during World War I'
The Journal also includes an updated Gibraltar Bookshelf for 2014, 2105 and 2016 and a Cumulative index.
PRODUCT WILL BE EMAILED IN PDF FORMAT TO EMAIL PROVIDED AT CHECKOUT. PLEASE ALLOW 24hrs FOR FULFILMENT OF ORDER